Planning a winter wedding in the mountains might sound like a daunting task. While there are a lot of things to keep in mind, this guide is going to make it feel like a cool winter breeze.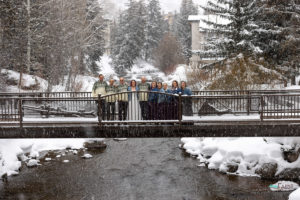 Tip #1 – Make a Plan
Decide what kind of wedding you want to have. You can have a traditional wedding that is mostly indoors where you just step outside for photos. This wedding was at the Vail Wedding Chapel, followed by an indoor reception at the Vail Golf and Nordic Clubhouse. But that didn't prevent the wedding party from stepping outside for some photos in the snow.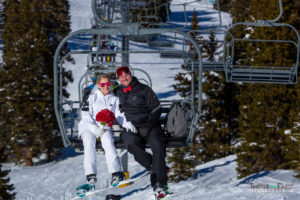 Tip #2 – Change it Up
Consider some non traditional clothing like white and black ski clothing. You can stay warm and comfortable, have something functional to be outside in, spend less than you would on dresses or tuxedos, and best of all you can wear them for years to come.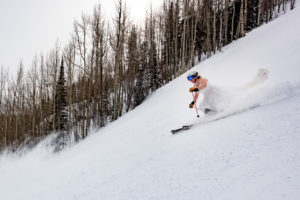 Tip #3 – Or be Traditional
Or just go with the traditional outfit. Nothing looks more awesome that ripping down a black diamond run in a fancy wedding dress. But if you want to go this route, I suggest two outfits. One for skiing, and one for the wedding and reception.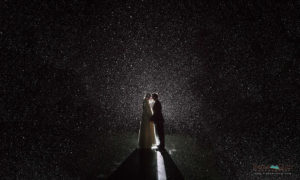 Tip #4 – Be Flexible
Be flexible. Winter in the mountains can mean warm and sunny bluebird days. But they can also mean blizzards with temps well below zero. It's important to have backup plans. Have an indoor location in mind in case the weather turns south. Just remember that bad weather often makes for awesome photography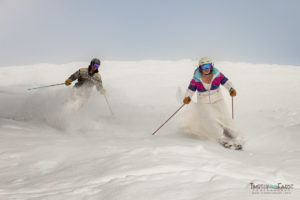 Tip #5 – To Ski or not to Ski
What do you do if you want to have a wedding on skis, but not everyone in your wedding party skis or snowboards? Not a problem. Consider skiing in to your ceremony instead of a traditional walk down the aisle. You can have your guests waiting at the bottom, or better yet, have them take a chairlift up to one of the many wedding decks in the mountains. You and your partner can ski into the ceremony site while your guests are waiting comfortably.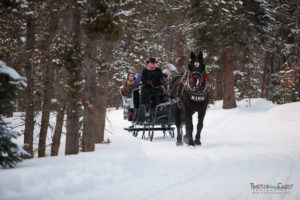 Tip #6 – Arrange Transportation
Have transportation options for your guests. While this is a good idea for any wedding, it is especially important when your guests aren't used to driving in winter conditions in the mountains. Horse drawn sleighs aren't the only option. Consider arranging private shuttles to take guests from the hotel to the venue with companies like Fresh Tracks or Summit Express.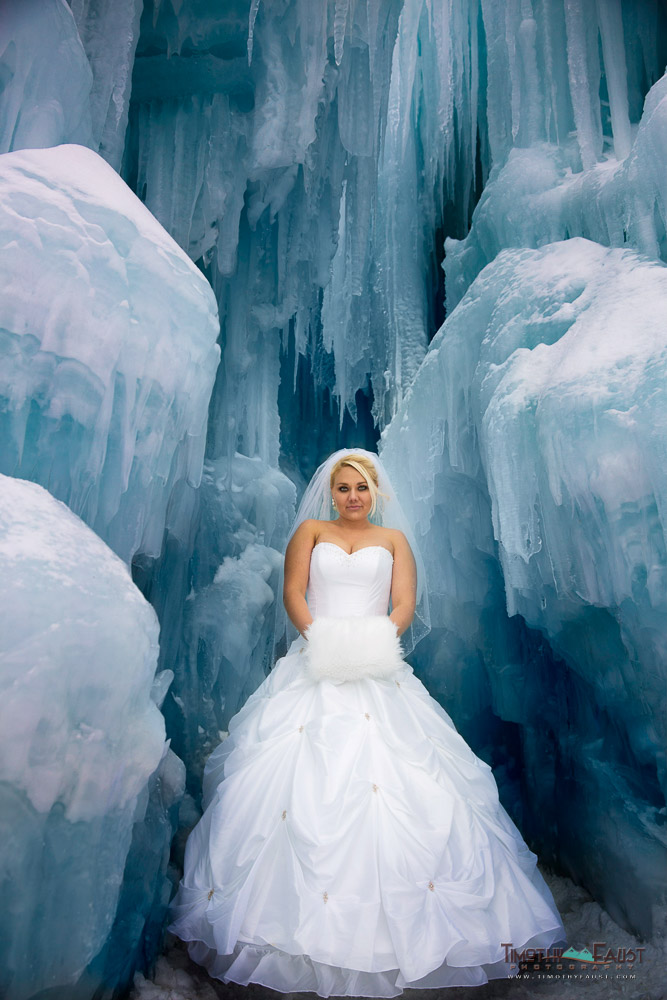 Tip #7 – Winter's Unique Experiences
Research some of the unusual winter events that take place in the mountains. Every few years, Breckenridge hosts both the Ice Castles, and the International Snow Sculpture Competition. Both make excellent opportunities for photography, but they are also unique experiences for your guests to enjoy.
There are a number of other winter specific activities for your guests to enjoy while in the mountains. Some like skiing or snowboarding might be obvious, but you can also look into things like dog sledding and snowmobiling with Good Times Adventures in Breckenridge. You could also look into a dinner sleigh ride and live music for the entire family at 2 Below in Frisco, Colorado.
And if being on a sleigh or a chairlift isn't for you, consider just shopping and dining experiences in towns like Breckenridge and Vail, Colorado.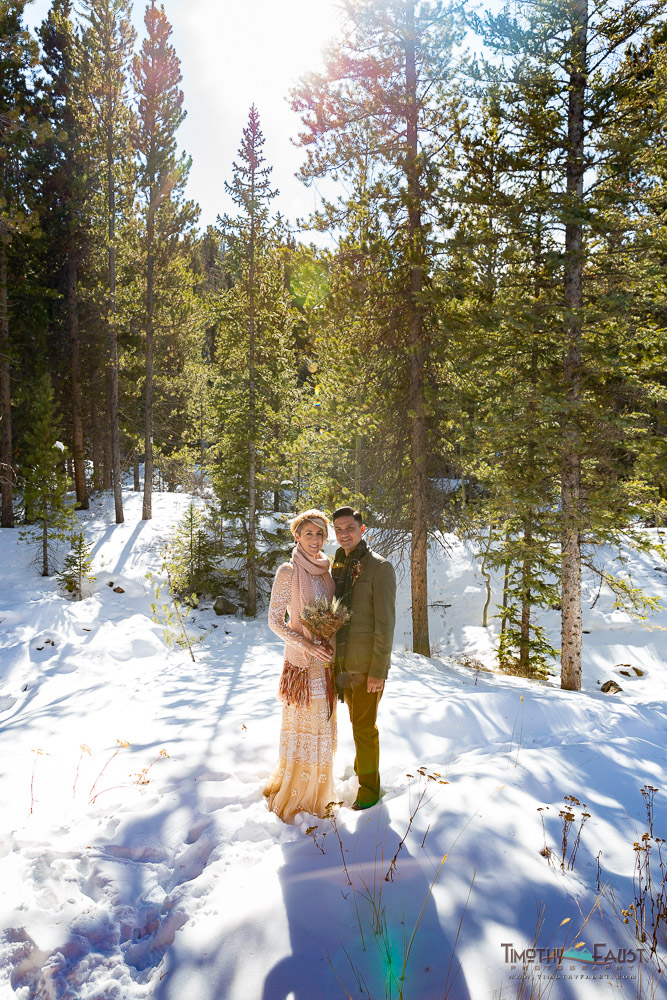 Tip #8 – Accessorize
Have fun with winter wedding accessories like scarves, hats, and jackets. Winter is a great time to get more creative with your wedding outfits. Also, don't limit yourself to just black and white. Consider matching a white dress with a pastel hat and scarf. For the gentlemen consider getting a heavier weight tweed or twill suit or a fancy Scottish or Norwegian wool sweater.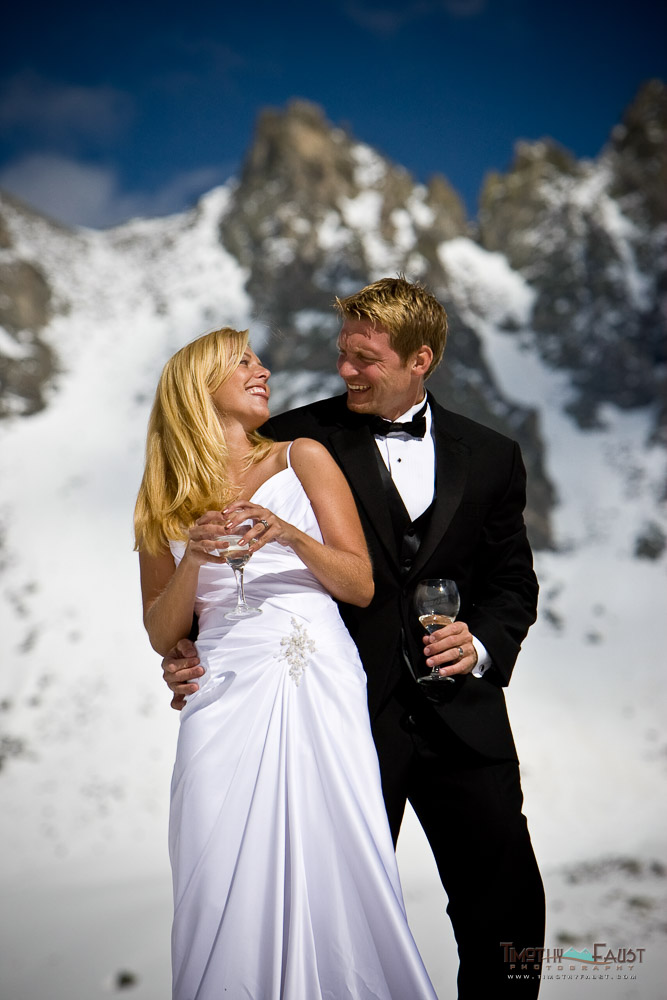 Tip #9 – Winter is Longer Than You Think
In most of the country, winter is only a few months. However, it snows almost every month of the year in the Colorado High Country. If you are looking for a winter experience without the winter temperatures. Consider coming in May or June. There is usually still snow on the ground those months, but daytime temperatures are much warmer. A lot of winter activities like snowmobiling will probably be closed for the season, so make sure to call a head and do some extra planning. But May and June is a great time of year to experience snow capped peaks, warmer weather, and fewer crowds.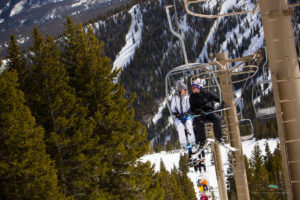 Tip #10 –  Choose the Right Photographer
Saving the self serving bit for last, but choosing the right photographer for your winter wedding in the mountains is important. In addition to over two decades of experience as a professional wedding photographer, I am also a ski instructor with the highest level of certification offered in North America. So regardless of whether you are looking for a few winter photos in town or hiking off piste to rip the steepest lines in Colorado in your wedding outfits, Timothy Faust Photography has you covered.