More isn't always better. Better is better. I think that there is an idea floating around that more expensive listings need more photos. When searching online, most potential buyers will make up their mind if they want to view a property in the first dozen images. Knowing this, a lot of agents start with the best photos, and then include the less visually appealing images at the end. This just results in viewers getting less excited as they look at more photos.
For example, is it necessary to show very powder room an walk in closet in a luxury property? Absolutely not. One photo of a closet with some carefully crafted built in shelves is enough to show a potential buyer what to expect. Conversely, there is a minimum number of images needed to pique a buyer's interest, even for smaller properties.
The key is to make every image count. After photographing hundreds of properties, I believe I have found the perfect number to be between 20 and 35 images based on the size of the listing. Because of that, we have developed a 20-image package for smaller listings like condos, and a 35-image package for single family homes.
You might be wondering how we can convey all of the amazing features of larger homes with just 35 images. But remember what I mentioned earlier? Every image needs to resonate emotionally with a potential buyer. But there are other more practical ways to show features that might be important, but not visually appealing. By utilizing technology like virtual tours and floorplans, I can ensure every image shows the most visually appealing and marketable features of the property.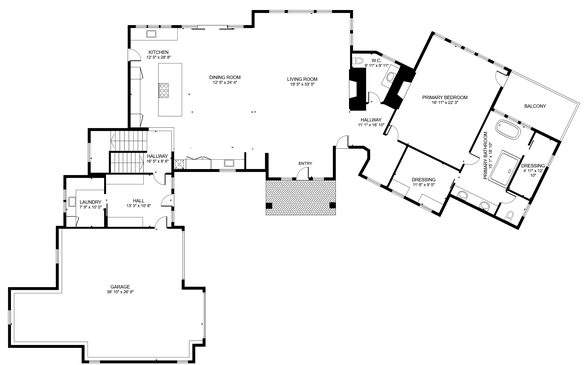 Use 2D Floorplans
Schematic floorplans can confer a lot of information in a single image such as layout, square footage, room sizes. It's not necessary to photograph spaces that might not be visually appealing, like the lower level powder room when your buyers can clearly see those on the floorplan.
Starting in August 2023 Timothy Faust is now including 2D floorplans with every shoot at no additional charge. We are doing this because of strongly we believe in the philosophy that every image should serve to sell the listing, and not just convey information that could be shown better with different tools.
Matterport Virtual Tours
Matterport and Zillow 3D tours are both excellent options to showcase an entire space, and really give a buyer an excellent idea of what the space would feel like to walk through in person.
Adding a 3D tour means you could choose either a smaller photo package or allocate images for more aspirational versus informational purposes. One of the best things about Matterport Tours is that they encourage potential buyers to revisit the tour page again and again.